11 Best Creative Business Cards
20th October 2014
We had a great Graphic Design brief in last week – to design a business card for an exhibition that will give stand out – we love these little briefs, it's a nice change of pace from creating brand messaging and a whole suite of marketing material. It also gives us a chance to research good Graphic Design in Newcastle, and the globe. So, this is the next post in our series of global round ups on things that we've seen and liked.
Even with the proliferation of LinkedIn and other social media routes to making business connections, the humble business card is still an important tool in a company's marketing kit. More than just a way to share contact details, a business card is your first point of contact with potential clients or business partners. It is your first opportunity to make an impression and the impression you make could spell success or failure in developing that connection.
As a graphic design agency we realise that the best cards speak about the company creatively and in a manner that engages the recipient, giving them a reason to remember it and, above all, use the services it promotes. Set aside the 300gsm silk artboard and consider some of these more ingenious ways of making that first good impression…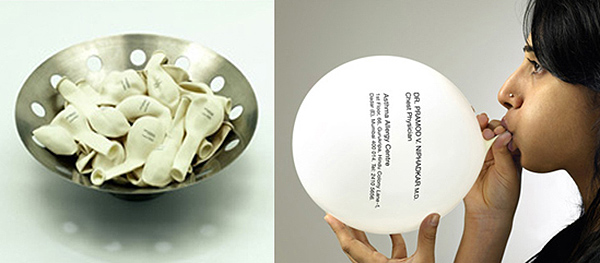 • Asthma Allergy Centre
An ingenious way of building understanding of the service into the business 'card'. Few people can resist blowing up a balloon and that interaction with the product makes it much more memorable than a plain card – and these balloons should cost about the same to produce.
———————————————————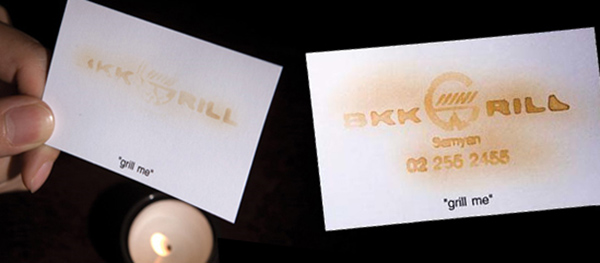 • BKK Grill
This card uses an innovative method of concealing the company details in order to get people to interact with it. The business logo and information is stamped onto a blank card (except for the words "grill me") using lemon juice which, when dry, is completely invisible. But when heated over a flame, the lemon juice discolours and the details are revealed. A cost-effective way to achieve a fun (if somewhat risky) engagement with your audience.
———————————————————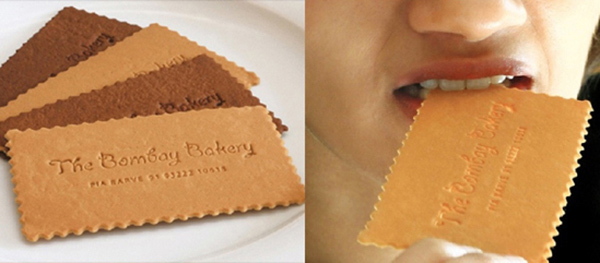 • Bombay Bakery
No one's going to turn down a free biscuit! A clever way to give out the company's details and show off their product at the same time. Hopefully the name will stick in your head because there'll be nothing left of the 'card' once you're finished.
———————————————————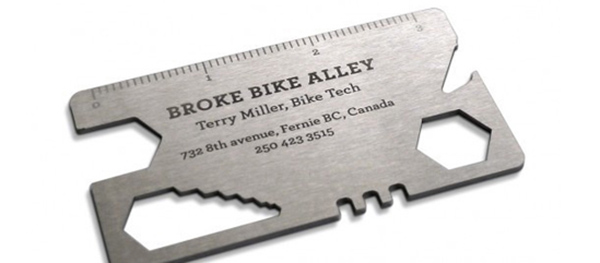 • Broke Bike Alley
One way to make sure someone keeps hold of your card is to make the card itself useful. Probably the most expensive to produce on our list, this laser-cut steel 'card' benefits from doubling as a bike multi-tool so it's sure to be held onto, keeping the company's details close to hand.
———————————————————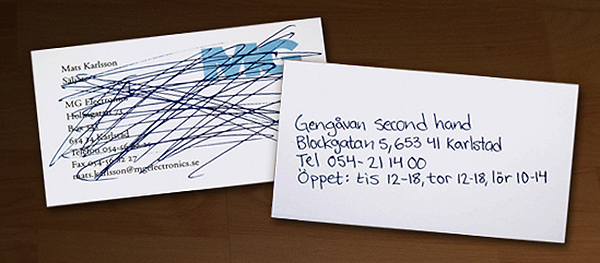 • Gengåvan Second Hand Shop
Sometimes, you don't need an expensive production process, or a fancy material or even a striking, attractive design. Sometimes, you just need a good idea, and this one has just that. As a shop selling second-hand goods, Gengåvan also hand out second-hand business cards. Cheap, simple, and effective.
———————————————————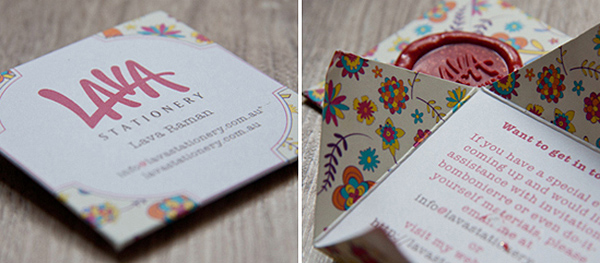 • Lava Stationery
A perfect way to advertise your business is to make your business card a great sample of your work. Lava Stationery designed this beautiful card and envelope set, complete with logo embossed wax seal, to promote their expertise in bespoke stationery and special occasion materials.
———————————————————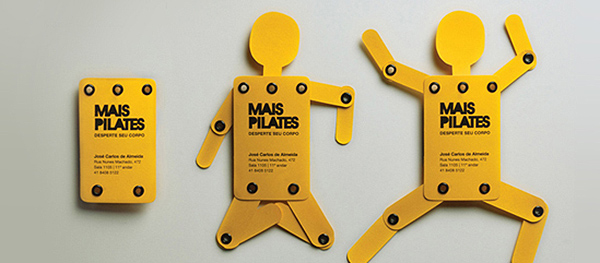 • Mais Pilates Studio
A great interactive card that emphasises the core elements of the promoted service – manipulation and flexibility – by having the card transform into a character with jointed limbs. A fun and addictive way to get your audience to engage with your card.
———————————————————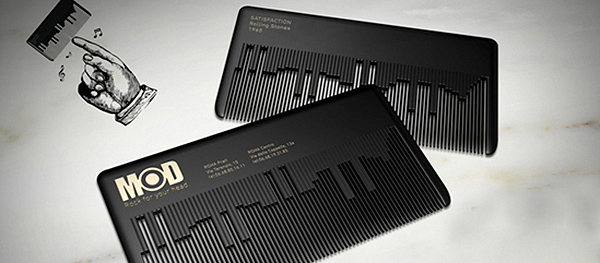 • MOD Hair Salon
MOD is a self-proclaimed Rock'n'Roll hair salon, which sounds amazing and which needs an equally amazing business card. As well as looking like a stylish comb, this one has been crafted into a musical instrument that plays a famous rock anthem when you run your fingers along the musical spines.
———————————————————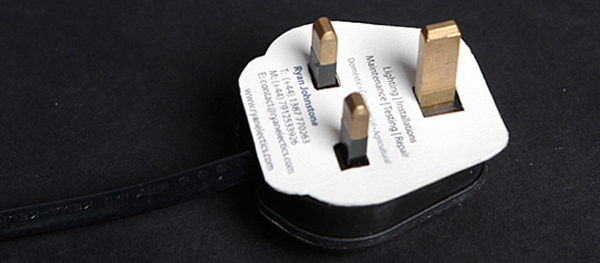 • Ryan Johnstone Electrician
A very simple idea to promote an independent electrician, these cards are shaped like the wiring instruction cards that come with new plugs. These cards have the electrician's details on and are 'handed out' on plugs of repaired and PAT tested appliances.
———————————————————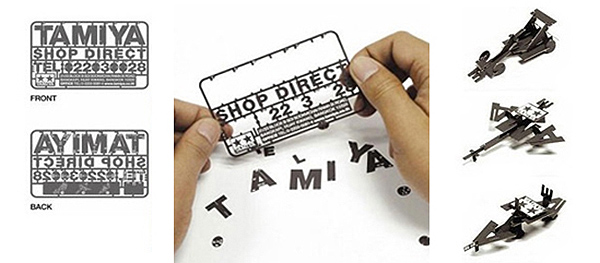 • Tamiya Model Shop
If you think of toy model kits you no doubt picture the injection-moulded plastic frames with the snap out pieces that have become a pop culture mainstay. Here, the plastic moulded frame has been put to clever use as a mini model kit. The letters and numbers of the company name and telephone number snap out and can be used to build a variety of mini toys including a car, boat and plane.
———————————————————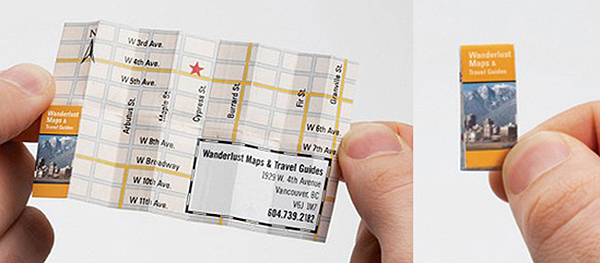 • Wanderlust Maps
The idea with most of these cards is to involve a sense of fun and raise a smile. This card does just that by doubling as a miniature map which shows where to find the business. It also folds down to a tiny sixteenth size to look like a real scaled down map.