A roadmap to success for Northgate
13th June 2019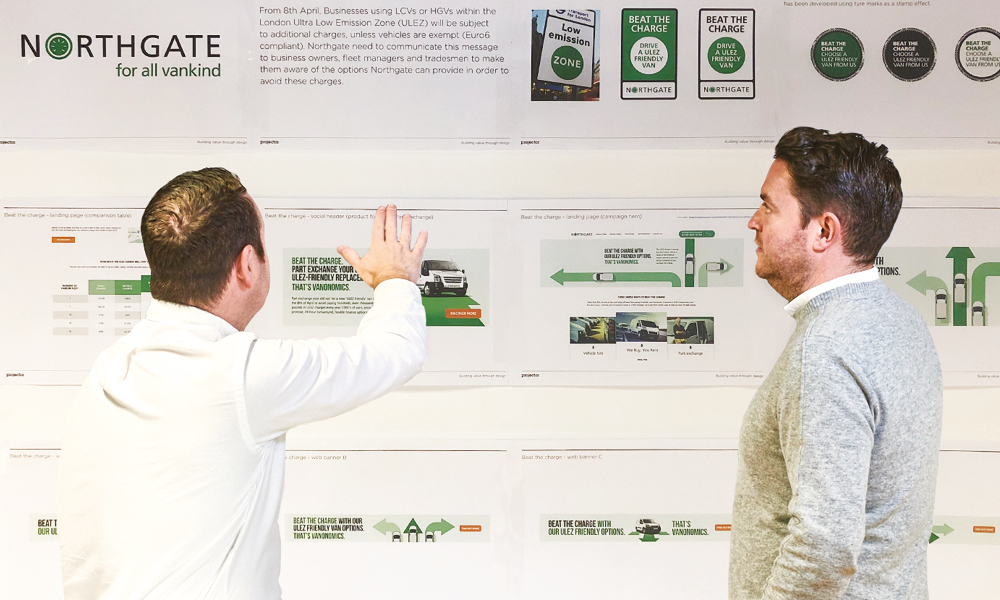 Continuing our deep dive into the evolving world of brand building, Phil and Glen sat down with Northgate's Head of Marketing, Julia Robinson, to chat about how our client-agency relationship has helped Northgate implement a new brand proposition and run a £2million marketing budget across the UK and Ireland. Check out what they had to say below…
1. How was Northgate first introduced to the team at Projector? 
Phil: It was 3 years ago now – a previous Marketing Manager at Northgate had reached out to Carat, their media company, for some help creating some HTML5 creative as they didn't have the expertise to build them in-house. We were working with Carat at the time on a media plan for another client of ours doing the same HTML5 creative so we were introduced. 
Glen: It was very much a one-off project at the time. We stepped in to support their in-house team with a defined object of plugging a skills gap. Back then, Northgate had a reasonably sized marketing department working in Darlington with marketers and a designer on the team. I don't think anyone knew then how the relationship would grow over the coming years.
2. What challenges were Northgate facing when you began working together?
Phil: The board was going through a big transitional period which culminated in a new Chief Executive coming in. While we didn't have exposure to that, it's clear that there was a state of flux within all departments – the marketing team changed within a 6 month period. There were also large question marks over the brand structure, and how Van Monster – Northgate's used van brand – would continue to work alongside the rental business.
Glen: From my perspective, Northgate's set-up looked to be changing; it seemed like they had been focused on selling through branches and they had an in-house team set up for that, but as the strategy changed so did the need for outside expertise to help deliver that strategy.
3. What actions were taken to overcome those challenges?
Julia: The business took the decision to create a new commercial hub in a new office in the south of England, giving the board an opportunity to recruit from a bigger pool. I was brought in as part of that recruitment process and now lead a new marketing team brought in to deliver an ambitious strategy. We inherited a range of products, systems and processes from the old team in Darlington, as well as a couple of creative agencies – Projector being one of them!
Glen: With the marketing team relocating, we understood that their in-house design role would fall away, which meant we had an opportunity to work more closely with the client and get out of the pigeon hole that we were in simply producing artwork. But, as with all new relationships, it's very much an unknown, so we had to work hard to show our value. 
Phil: We've been trying to support the new team as much as we can. Currently, we're working with Northgate's UK Marketing team, Ireland's Marketing team, the Van Monster sales team and we've even helped the HR team with some internal comms projects they've undertaken. We've adapted to their change in strategy and when they've needed our expertise, we've delivered. 
4. How does the structure and size of Projector help to manage Northgate as a client?
Julia: Of the two agencies we work with, Projector are the smaller of the two. And they're geographically further away, too. But we rely on them for most of the implementation of our brand and marketing communications strategy day-to-day. They've a dedicated team, who seem to balance creativity and commercial thinking really well. We see them as part of our marketing team and we go to them for help because we trust them to deliver. 
Phil: It sounds so cliché to say we work as an 'extension of your team' but that's how we've always worked with everyone, and with Northgate it's no different. With the team based in Reading, most of our work is done remotely these days, with meetings held face-to-face when we need them. Our team is made up of senior consultants and creatives so while we're different to full service agencies in size, what we deliver through our extended network is very similar, and it works very well. 
5. How are you helping Northgate maintain consistent brand communications?
Phil: I think being in control of comms across a range of internal businesses help keep collateral consistent. A good example of that is our relationship with the team in Ireland, who we work with to deliver creative but also to act in a brand guardian way for them too, making sure that if we have assets from the UK that we can use, we do. 
Glen: I think we have around 17 Northgate projects in progress in the studio now. These range from digital ads, in-branch POS and press ads to video scripts and animations, so it's really varied. But we've worked with the team at Northgate to develop a style that we're happy with, and we can make sure what we deliver is consistent. Plus, the team at Northgate are good at keeping us briefed on developments and their objectives too, so my team can sense check all the outputs and add real value for the client. 
7. What does the future hold for the Projector and Northgate relationship?
Julia: It's an exciting time for Northgate; we have a refreshed brand proposition and we're now in a position to start rolling out the marketing strategy across a range of channels. So, we're going to need Projector to help with a lot of that.
Phil: More of the same I hope. It's a great relationship that's gone from strength to strength. From one small request back in 2016 to now being seen as a trusted partner for a business as successful as Northgate is a huge testament to my team.