Annual Report: a key promotional tool
2nd April 2015
With less than a week to go until the end of the latest financial year, now is the season for many companies to feverishly pull together their accounts and prepare for the publishing of their annual report. A company annual report is a regulatory requirement for many businesses including publicly trading and Government-owned companies. They are routinely used as tools to inform shareholders of the state of the company and convince them to continue investment.
However they are also increasingly used as a marketing centre-piece communicating information about companies and their operations in a way that isn't always possible with standard promotional tools. With the marketing potential and promotional benefits that an annual report affords, it may be time for you to consider creating one for your own business.
Making the most of an annual report
There is a perception that annual reports are stuffy, number-filled documents that are only of interest to accountants. Today, this cliched view is rarely the case and even the most serious and corporate organisation will use their report as more than just a collection of spreadsheets. It is an opportunity to highlight your successes and promote the best selling points of your business. Annual reports can often act as a vehicle for stretching your promotional legs, trying something unique and memorable. They are an opportunity to tell a story about your business; about where you've been and where you're going.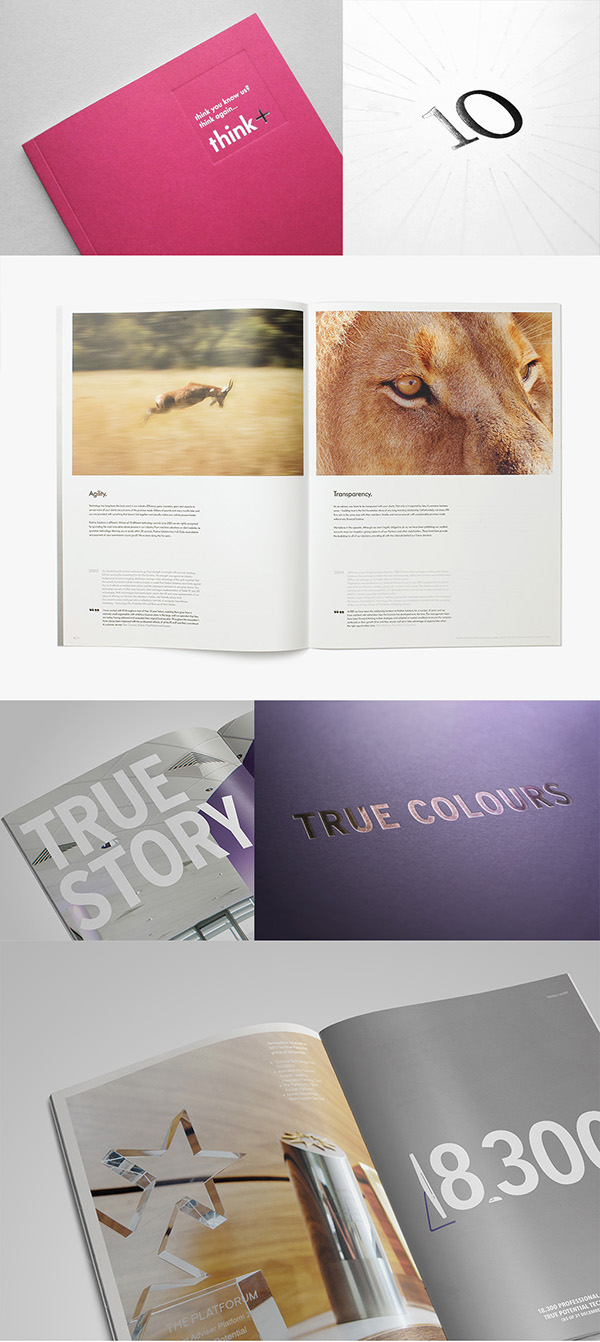 We've been lucky enough to create a number of interesting Annual Reports for clients. From producing pared back A6-sized reports during times of austerity, right up to glamorous A3 reports featuring a photoshoot of big game in Africa to celebrate 10 years of trading, we've seen it all. More recently we've designed an engaging report for True Potential Group with the title 'True Colours' in a holographic foil on the cover. This report featured a reportage photoshoot of staff and partners in their newly designed offices in Newcastle and London and was a real under the skin showcase for a northern firm going well beyond expectations, with the 'True' theme conveyed throughout the design.
"An annual report can often be seen as quite a 'stuffy' document; simply submitting a mandatory document because Companies House say we have to. I think this is a huge missed opportunity though. 
Through the over-arching nature of an annual report document, it can suit a wide variety of audiences and thus a wide variety of purposes. We use ours heavily to aid growth for recruitment, for new investors, for new partners and other key stakeholders. 
At True Potential, our Annual Report acts as our flagship document, showcasing our performance and sharing our vision. Because of this, we trust Projector to create a powerful concept and design then use the right print materials to produce a physical, substantial document that we strongly believe in."
Daniel Harrison, Senior Partner. True Potential LLP.
The year as an infographic
As well as the main financial report, many companies release a summarised version. This can be seen as more of a 'review of the year' and is often a more visual document than the annual report. Another recent trend has been to include a 'Year By Numbers' section in the main report. This can either be a summary of the main figures of the report (profits, sales etc) or a collection of non-financial figures such as number of awards won, exhibitions held or new customers gained. Both the 'Review of the Year' and 'Year in Numbers' ideas are perfectly suited for infographic treatments. They are a great promotional tool to connect with your client base without investing in a full annual report. Below are a couple of examples we've included in clients' Annual Reports, at the end of this post we've included some other great examples we like.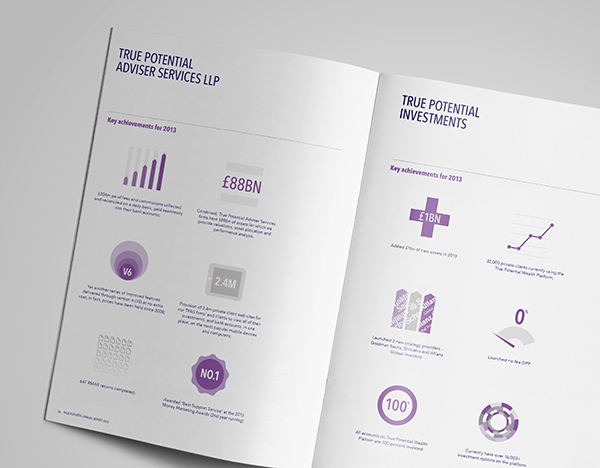 Annual reports, in whatever form they take, are fast becoming more widely used as marketing vehicles. They often involve the sort of rich content about a company that is difficult to include in standard brochures, leaflets or adverts. Whilst a physical printed version is always useful, especially when meeting clients, networking or dealing with the media, a digital version is often more practical – both financially and in terms of distribution. A PDF copy can be emailed to your client mailing list or set up as a download on your company website.
At Projector, we understand the promotional potential of annual reports and could help you to realise that potential for your own business. Whether you have the broad scope and in-depth information to warrant a full financial report, or simply want to show off your company's best bits in a brilliantly designed infographic, we can work with you to build a compelling story of how much your business has accomplished, and a vision of what it will achieve in the future. Send us a message.