Beacon Purchasing Supplier Awards
10th September 2009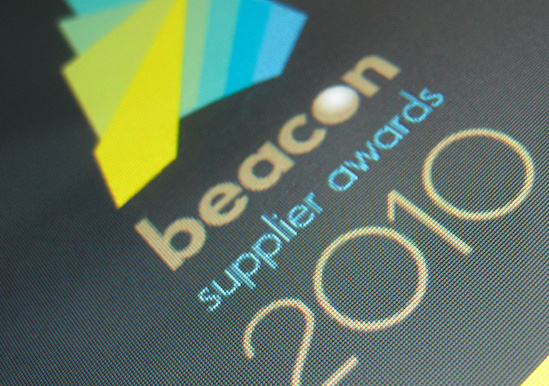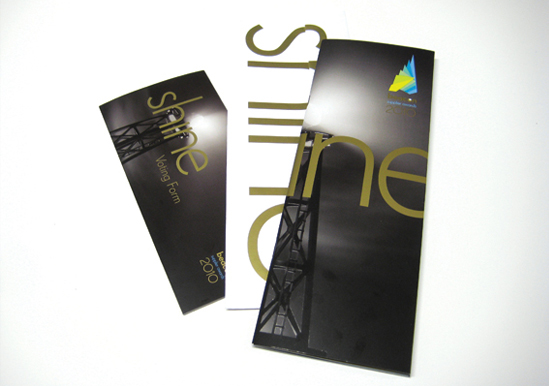 It's been a while since we posted some work up here, we've just been too darned busy producing the stuff! We've finally got around to photographing some pieces though so here is a recent Direct Mail piece we designed for a new client of ours.
Beacon were looking for a cosultancy with brand expertise to help them further raise brand awareness. They approached us after a recommendation by one of our suppliers and we were more than happy to get involved. After commissioning an initial small branding and marketing project to test our skills we were given the chance to work on the prestigious Beacon Supplier Awards marketing materials.
There was a problem with the existing material not being identifiable as part of the Beacon brand and we were asked to come up with a solution.
After initial analysis to define the problems of the existing design we presented a number of options. A simple solution was chosen – introducing the recognisable Beacon logo shape and brand typeface within the awards logo worked perfectly.
The next step was to apply the new design to a range of existing marketing materials. However, never ones to rest on our laurels, we thought we could create a better suite of comms than the existing package and so we invested some time in producing a fresh alternative. We came up with a new theme – introducing large 'shine' which we used throughout in spot gold to add a prestigious feel alongside spotlight imagery to tie in with the 'beacon' name. Our boldness paid off with the client choosing our design over the old one, another feather in our cap and more importantly a satisfied client!
Projector are currently: Almost finished a gigantic project.