It's Been a Whoppingly Good Year for Burger King's Branding & Advertising
21st December 2020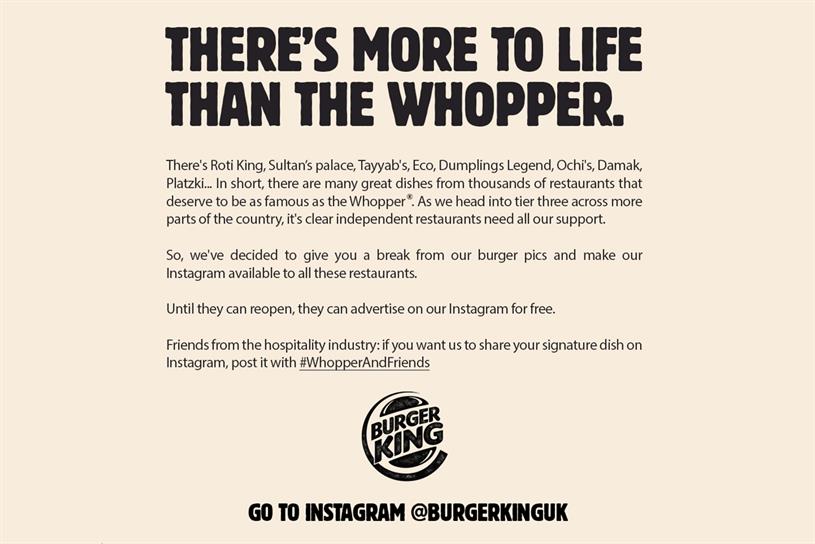 What has been a challenging year for many, has also been a bold and brilliant year for Burger King's branding and advertising department; with their latest campaign in particular gaining wide-spread public and media attention. And we think, rightly so.
After it was announced that more restaurants, bars and other hospitality venues would have to close in line with the British Government's Tier 3 restrictions, Burger King UK showed their comradeship with those independent businesses forced to shut with a scroll-stopping Instagram post.
The thoughtful post urged their followers and customers to order from the "…thousands of [independent] restaurants that deserve to be as famous as the Whopper". As part of this campaign, Burger King UK declared they'd be hitting the pause button on their usual content in favour of making their Instagram "available to all these restaurants" by sharing images of these restaurants' signature dishes, instead.
In a bid to offer independent businesses a free advertising platform they'd usually have to pay thousands for, Burger King UK showed exceptional levels of camaraderie which has seen independent eateries responsibly highlighted and advertised, alongside their own brand being widely celebrated.
But this wasn't the first campaign Burger King succeeded with this year…
Back in February, Burger King released a global campaign designed to split opinion. The advert showed it's acclaimed Whopper burger decaying over 34 days and was released to showcase the brand's decision to remove artificial preservatives from their infamous burger – highlighting, instead, the use of natural ingredients in their food products.
This form of transparency certainly divided opinion. While some viewers watched in disgust and vowed never to look at (never mind actually eat) one of their burgers again, others found this brave form of advertising refreshing and clever – applauding them for their risky advert that certainly got everyone talking.
More recently, the chain launched their 'Burger Queen' campaign to announce the news that the global brand would become the proud new sponsor of Stevenage FC Women's team. With their message highlighting the fast food giant's commitment to supporting the team "on the same terms as the men's team", Burger King once again succeeded in delivering an impactful and thought-provoking campaign that not only conveyed a message, but displayed their brand as a positive force in the eyes of the public.
We can learn many things from what Burger King have done in 2020 – from using their social media platforms to promote competitors, to producing brave advertisements designed to get people talking as opposed to eating. But the main thing we can learn from their success in 2020 is that consumers respond best to kindness and authenticity, which is something we should all look to do a little more of in 2021.
If you'd like some help to do a little more with your branding in 2021, get in touch with our friendly team of creatives, today.