Coffee For The Community
7th April 2011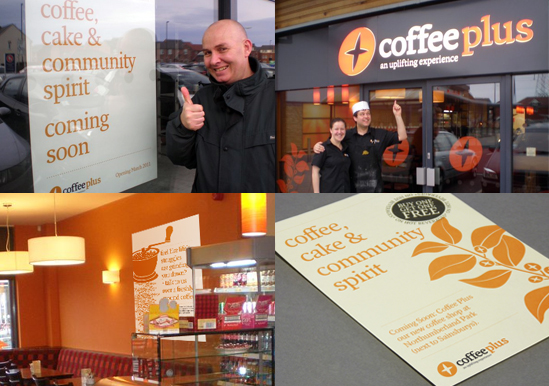 We recently completed work on a new brand for Coffee Plus, a coffee shop which opened it's doors to the public last week. The venue is not just your typical run of the mill coffee shop however; run by St. Mark's Church in Shiremoor, it's aim is to engage with it's users directly and encourage growth and community spirit within the local area. Conveying this key message as well as creating a brand that would appeal to the wider public proved to be a unique challenge. It was important that the Christian message was balanced alongside the product offering so it was not too strong to dissuade people from using the shop.
Our solution was to create a brand with warmth, vibrancy and fresh appeal and combine this with hints towards the Christian mission of the business. We created a coffee bean logo mark which features a cross reversed out of the bean shape and added the descriptor line 'an uplifting experience'; to communicate the double meaning of uplifting produce and a destination with a meaningful purpose.
Illustrations of coffee related subjects, incorporating the coffee bean logo mark were introduced to build the brand into a more unique, stand-apart and memorable experience.
To further build appeal we came up with a number of creative messages which hint at the greater purpose of the venue as well as highlighting what products are available. Lines such as 'cappuccino, latte, americano – or something a little more uplifting?' and 'coffee, cake & community spirit coming soon' where used on a range of marketing materials to build awareness of the shop opening.
The shop is ideally placed to stand out in a crowded market, offering high quality, locally sourced and homemade produce, all combined with a driving ambition to make a real and positive difference to the local community.
Projector are currently: Basking in some rare rays of Newcastle sun.