Create a Commentary with Mark Lawrenson
23rd August 2011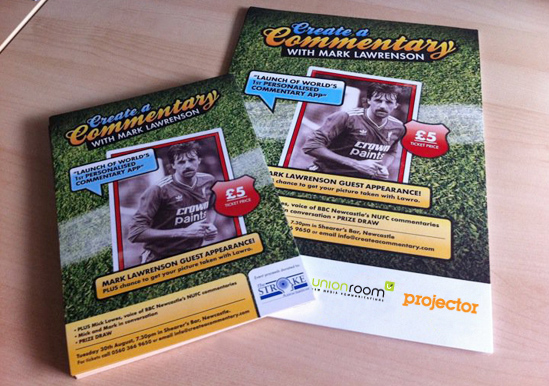 We've had a very busy summer at Projector, hence the distinct lack of fingers dancing over the keyboard to create a blog post. A large amount of work for existing and new clients has passed through the door at Projector Towers. One such project has been marketing material for Jamie at Bespoke Radio's new iPhone App "Create a Commentary with Mark Lawrenson". The App is an extension to the new commentary product Bespoke launched at the turn of the year. The App allows the user to construct their own 3 minute personal footballing heroics (as commentated on by BBC's Mark Lawrenson and BBC Newcastle's Mick Lowes), using a selection of situations, names and personal descriptions. The results can be hilarious (see link below). You can share the results with your friends on Facebook. We think it's going to be a big viral hit, and it'll hopefully launch a series of "Create a Commentary" offshoots with various other commentators and sports. Good luck Jamie!
http://audioboo.fm/boos/435478-create-a-commentary-iphone-app-example
Projector are currently: Trying not to care about the Tyne-Wear derby.