Friday Roundup – 17th October 2014
13th October 2014
As a graphic design studio in Newcastle we always take note of what's happening in the wider design world. Lots can happen in just one short week so here's a quick roundup of some of the bigger stories we've followed from the past seven days.
Use our quick links to read about:
Interbrand's Global Brands

 / 

Scottish Design

 / 

New York Subway graphics manual

 / 

Schoolboy's war memorial design winner
Interbrand's Global Brands List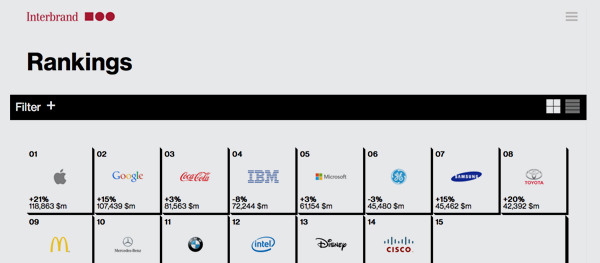 At the end of last week, Interbrand published its annual Best 100 Brands. For the second year running, Apple and Google have taken first and second place respectively, again beating Coca Cola into bronze medal position. The soft drinks giant topped the rankings for 13 years prior to the 2013 list but its repeated third place performance is a prominent illustration of the continued dominance of tech firms as powerhouse brands. Five of the top ten companies listed are technology based: Apple, Google, Microsoft, IBM and Samsung.
Looking back 10 years to the 2004 list, Apple was only placed at no. 43 whilst Google didn't appear at all in the Top 100! This is a testament to the commitment that both companies have placed on building their brands, primarily by creating a consistent user experience with a system of integrated products and services. Companies clamour to try and emulate the branding and marketing strategies of these businesses, particularly Apple, and almost universally fail to do so. Their branding is not a superficial gloss but a complete and seamless ecosystem of software and hardware and their brands have reached the top of the list through continued and consistent strategies rather than short-term, quick return aims. The full list can be seen here.

Scottish Design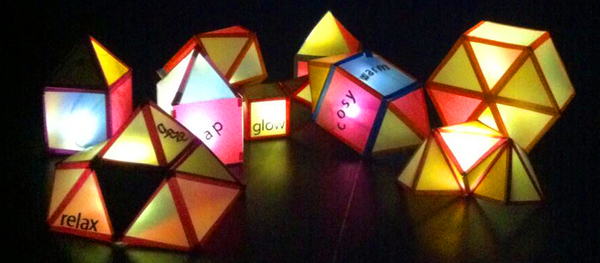 The second half of 2014 is turning into an exciting time for Scottish design. August saw the first community project to take place in the run up to the opening of the new V&A Museum in Dundee. The project built upon the concept of the museum being a 'living room for the city' and involved free workshops in which participants designed and created their own lights including single words reflecting what a living room means to them. All of the lights were then collected for an exhibition at the end of August. Similar projects are planned for between now and the museum's opening in 2017.
Following on from the Living Room light project, Alice Rawsthorn will be giving a lecture on the impact that design has on all aspects of our lives, exploring examples as diverse as pirate flags and prosthetic legs. As Alice explained, "We need to understand (the impact of design on us), the more thoroughly the better – which is why a museum like V&A Dundee is so valuable." The lecture is free and takes place in the Dalhousie Building at the University of Dundee on October 28th at 6pm.
Further to the continuing engagement with design resulting from the V&A Museum launch in Dundee, a new graphic design festival is launching in Scotland this month. Hoping to replicate the popularity and success of this year's expos held in Belgrade, Paris and London, the festival will run over five days and include workshops, competitions, talks, exhibitions, urban murals and live stream discussions. The hope is to inspire up-and-coming designers and develop networking links between students and businesses. Graphic Design Festival Scotland takes place at The Whisky Bond in Glasgow from 22nd to 26th October.

New York Subway graphics manual gets a reprint
Early in 2012, an original first edition copy of the New York City Transit System's Graphics Standards Manual was found by two designers in an office in Pentagram (apparently covered in old gym clothes in a locker!). This amazing piece of design history was originally only shared among friends of the designers until they realised the broad appeal of the manual and created a website including scans of all of the pages. The website in turn became hugely popular and this encouraged the designers to look at getting a version printed in book form. They decided to use Kickstarter to raise the necessary funds and this week the project was successfully funded – to the tune of $800,000, almost 8 times more that the original goal. It has become the single most funded graphic design project ever on Kickstarter.

"If you found yourself in the New York City subway in the 1960s, you were probably lost. Signs didn't help you find your way, standards didn't exist, even handmade lettering was common. Mass confusion was the status quo. In 1970, the Standards Manual changed everything."
Massimo Vignelli's work on the New York subway graphics system is legendary and is rightly considered a classic of modern design. Despite various revisions and alterations to the signage system over the years, the underlying design model is still in place and has become an iconic facet of New York culture. It is fascinating and inspiring that a graphics manual from almost 45 years ago could garner such devotion and enthusiasm as it has through this Kickstarter project – a fitting tribute to a milestone in design history.

Schoolboy's war memorial design winner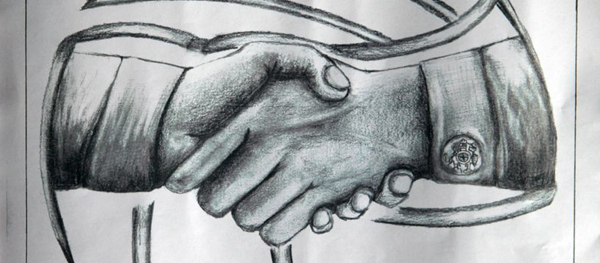 This Christmas will see the centenary of the 1914 Armistice in which British and German troops ceased fighting on Christmas Eve and played football in No Man's Land. To commemorate the anniversary, English football organisations are planning a week of activity, The Football Remembers Week, from 6th to 14th December. As part of the remembrance, a Christmas Truce memorial will be unveiled at the National Memorial Arboretum in Staffordshire. The memorial was designed by 10-year-old Spencer Turner from Farne Primary School in Newcastle, who won a national competition with his handshake and football drawing.
"I did a lot of research about the Christmas Truce. I found it interesting the idea that football could stop people from fighting and shooting at each other and instead it brought people together."
Spencer's design was chosen by the The Duke of Cambridge (president of the FA) and Theo Walcott. Last week, Newcastle United players Steven Taylor and Adam Armstrong visited Farne Primary School to deliver the news that Spencer's drawing had been chosen for the memorial.