Friday Roundup – 30th January 2015
30th January 2015
As a graphic design studio in Newcastle we always take note of what's happening in the wider design world. Lots can happen in just one short week so here's a quick roundup of some of the bigger stories we've followed from the past seven days.
Use our quick links to read about:
Brown Ale wins the SuperBowl
 / 
Irn-Bru's PR Coup

 / 
Sweet Street
Brown Ale wins the Superbowl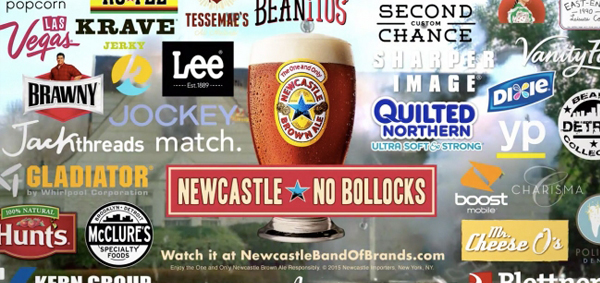 We've made mention of our local brew a couple of times over the last few months (most recently earlier this week). Along with brand and marketing blogs from all corners of the internet, we've spent the last month or so watching their current play for SuperBowl fame as it has built momentum and garnered fans. Now, with only two days left before the big game, we can watch the culmination of their marketing ploy – their final 'crowdsourced' SuperBowl commercial.
http://youtu.be/MaqRwWwXau0
Being honest, we didn't think the final advert would make it to air. The idea of crowdsourcing a SuperBowl advert seemed funny and clever but not actually practical. It's to their credit that they have succeeded and managed to make the final commercial both funny and in-keeping with their marketing position as the no-nonsense, tell-it-like-it-is beer brand. The fact that the other companies featuring in the ad include such magnificent brands as Brawny Paper Towels, Detroit Beard Collective, McClure's Pickles and Mr. Cheese O's just makes the whole thing that much more enjoyable.
The annual run-up to the SuperBowl is a crowded marketing arena and getting your voice heard above the clamouring hubbub is no mean feat. Yet again Newcastle, along with Droga5, have succeeded where many other brands have failed – in building a successful marketing campaign that has captured the attention of a large, diverse audience and stealing a march on some of the biggest players in the game.
Irn-Bru's PR Coup

Sometimes, a brand gets a leg up without expecting it and without doing any proactive marketing to warrant it. In the case of Irn-Bru, they have caught a huge PR boost on the back of one of the biggest global stories of the past year – the Ebola crisis. On the one hand, it feels a little awkward to make comment on this story due to the nightmarish backdrop of a viral epidemic. But it is also the story of recovery – specifically the recovery of Scottish nurse Pauline Cafferkey, who contracted the Ebola virus after working in Sierra Leone. She was treated with experimental anti-viral drugs in London's Royal Free Hospital and was discharged this week on the road to recovery.
The crux of the story, and Irn-Bru's involvement, comes from a statement she made to the press upon leaving hospital: "I am just happy to be alive. I feel weak, but I'm looking forward to going home. As I was beginning to recover, I listened to lots of music and that was a massive help. I also had lots of Irn Bru to help me through."
Cue an almost comical clamouring from the media to build headlines such as 'I beat Ebola with high-tech drugs and Irn Bru' (Daily Mail) and 'Can Irn Bru really cure Ebola?' (The Telegraph). And with such nonsensical attention paid by so many papers to such an innocuous sound-bite, the small Scottish soft drink saw a five per cent boost in sales.
There is a lot that we can control in the management of our brands, but occasionally outside events play a significant role. And in the case of Irn-Bru, all for the better.
Sweet Street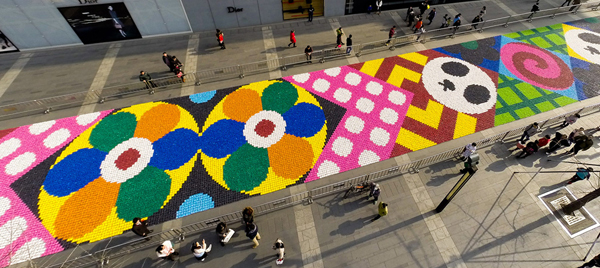 If you imagine a pavement covered in 13 tonnes of sweets you'd probably think of a massive sugary mess. But an installation unveiled this week in Chengdu Street, in the capital of Southern China's Sichuan province, uses that huge amount of candy in a much more decoration manner.
The 14,000 sq/ft sweet 'carpet' (607ft long and 23ft wide) features vibrantly coloured pandas, flowers, swirls and patterns constructed from individually wrapped treats. The installation by graphic artists Craig Redman and Karl Maier was commissioned by AllRightsReserved, a creative studio based in Hong Kong, to draw attention to the hardship of underprivileged children in China's rural areas. The 'Sweet As One' street art took 2,000 volunteers five days to complete. The sweets will all be donated to local underprivileged children along with 15,000 meals.
Watch a video of the making of 'Sweet As One' on the Craig and Karl blog.