Friday Roundup – 6th February 2015
6th February 2015
As a graphic design studio in Newcastle we always take note of what's happening in the wider design world. Lots can happen in just one short week so here's a quick roundup of some of the bigger stories we've followed from the past seven days.
Use our quick links to read about:
Dundee – UNESCO City of Design
 /
Coke tweets Mein Kampf
/ 
Pantone works of art
Dundee – UNESCO City of Design
In a formal launch last week, it was revealed that Dundee will be accredited with UNESCO City of Design status – the first UK city to be awarded the honour. Dundee – along with Bilbao, Curitiba, Helsinki and Turin –  was initially named in an announcement at the end of last year. The accreditation gives recognition to Dundee's continuing development in the design industry. Their ambitious plans for the V&A museum to be opened in 2017 have been criticised by some over the last couple of months due to the spiralling costs. However, the museum itself will be a cultural and artistic centre point to the city and a continuation of its historical contribution to design that has covered graphic art, video games, food and even innovation in biosciences. The five cities formally named last week will join the list of existing UNESCO Cities of Design which includes Beijing, Buenos Aires, Montreal and Shanghai.
Related stories: Scottish design (Friday Roundup – 17th October 2015)
Coke tweets Mein Kampf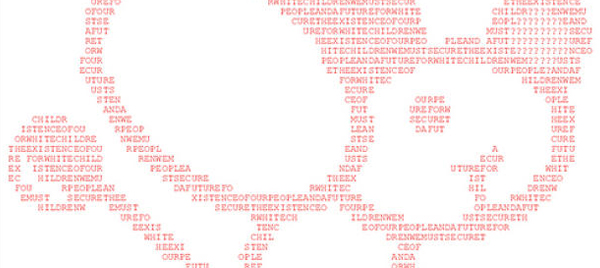 That title sounds like a joke, but unfortunately for the soft drink giant, it's not. In what must have seemed like a fantastic idea during brainstorming, Coca Cola set up a Twitter campaign that involved turning negative tweets into cute ASCII artwork. The company asked its followers to reply to any 'negative' posts with the hashtag #MakeItHappy. At this point, the @CocaCola account would automatically convert the text of the 'bad' tweet into a happy piece of art to cheer everyone up. Unsurprisingly, things didn't turn out quite how the drinks maker expected. One of the resultant text images featured a bubbly, smiling mouse drafted from the repeated line "We must secure the existence of our people and a future for White Children" – a quote from Adolf Hilter's 'Mein Kampf'. Oops.
Social media is a very precarious promotional tool for businesses. We see some sort of fumble or foul up by some company every month or so. However, in this case, an organisation as large as Coke – with presumably a raft of clued-up social media experts on hand – must have been able to recognise the danger in handing over control of their account to some form of automated algorithm. In fairness, it appears that the Hitler quotes were a considered purposeful 'attack' on Coke by the New York based blog, 'Gawker'. Still, the lesson here isn't that there are nasty people on the internet that will try and scupper your plans no matter how well-meaning they might be (and that seems to be Coke's take on the incident). The lesson is that social media promotion for any brand needs to be rigorously controlled in order to avoid embarrassment. And that means not leaving your blog posts or tweets in the hands of an unthinking algorithm.
Pantone works of art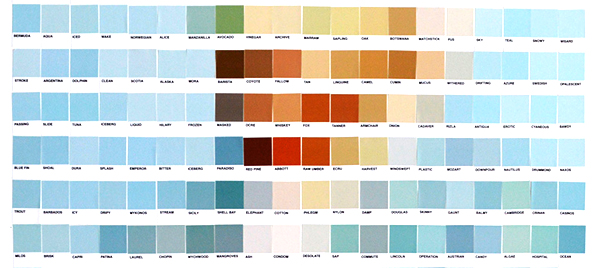 I always find it bizarre that Pantone has settled into the cultural consciousness in the way that it has. As a colour matching system is a critical part of the design and print sector and has been since the early 1960s. But outside of the industry its existence seems somewhat superfluous. And yet since the turn of the new century Pantone seems to have successfully invaded many unrelated markets and become, bafflingly, a cultural hit. You can now buy Pantone branded items as diverse as bags, t-shirts, beer cans, chairs, cufflinks, shoes and kitchenware. There is even, preposterously, a Pantone Hotel in Brussels. Such a broad reach seems inconceivable for what is still, essentially, a colour system.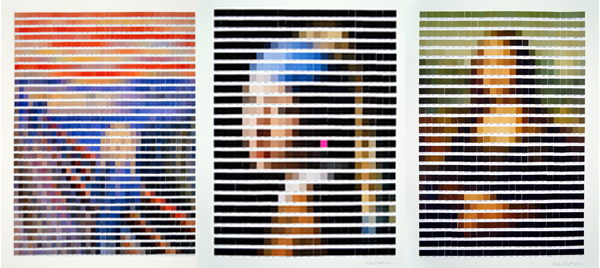 Now, interior designer Nick Smith has tapped into Pantone's broad ubiquity with a set of artworks based on famous paintings constructed with Pantone chips. The pieces work as pixel art with Smith cleverly building the coloured mosaics with sample swatches. Pieces include Munch's 'The Scream', Da Vinci's 'Mona Lisa' and Hockney's 'A Bigger Splash'. The collages are part of Smith's 'Psycolourgy' exhibition at the Lawrence Alkin Gallery in London and will be on display until 21st February.