Otter Recruitment
12th March 2010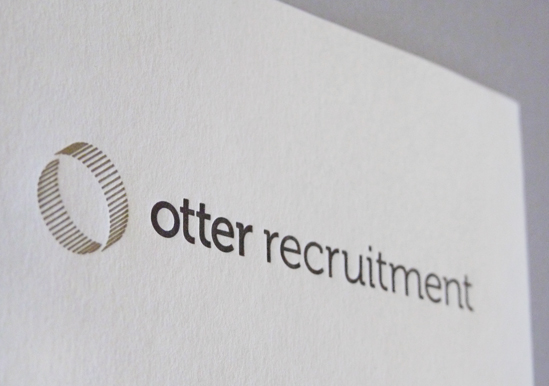 We've just received copies of printed communications we recently produced for Otter Recruitment. We're particularly pleased with the detail in the letterheads which were printed by our friends at Glasgow Press using traditional letterpress methods.
These pieces were a natural progression following on from the brand creation project for Otter – a new recruitment company aimed at the recruitment of mid to high level staff. With a bespoke service offering personally tailored solutions Otter tasked us with creating a brand that reflected the high end expectations of potential clients yet retained an element of warmth and approachability.
After working with Otter to fully understand their business and using our knowledge of the recruitment industry from previous experience, we created a logo mark that subtly reflects the 'O' of the company title and has a dynamic, corporate feel to it that looks fresh and positive. These elements are also reflected in the modern typeface which is classy yet friendly and has good legibility. A warm black used alongside secondary gold colouring completed the prestigious feel.
After helping to clarify the brand offer and creating the new logo we rolled out a suite of comms including corporate stationery items, direct mail and a fully content managed bespoke website, working alongside Union Room in the studio here.
Projector are currently: In awe at a real life Apple Magic Mouse