Positive Solutions National Forum
24th February 2009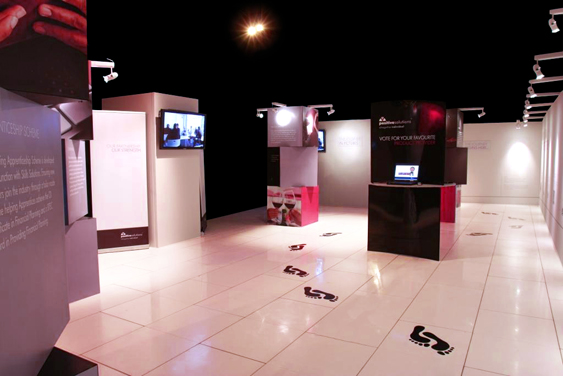 We hit the ground running in 2009 with the

Positive Solutions

National Forum held at the ICC in Birmingham at the beginning of Febuary. We were asked to come up with designs for a range of materials including the 'PS Experience' area shown above. As well as literature and directional signage we produced various display objects such as the stacked boxes and feedback pods shown. The exhibition was used as a launch pad for the new brand styling we have created for the largest independent IFA in the UK. Despite coinciding with the blizzard-like conditions that saw many people unable to travel, the day was hailed as a great success by all.
We are in the process of rolling out various new materials for PS including new brochures, advertising and 'client facing' materials for their 1377 strong partnership. New photography, an injection of colour and fresh styling will offer more accessibility, easier understanding and clear product advice to existing and potential clients.
Today Projector are lying

in wait for:
The return of Clint in Gran Torino