This Christmas, we're doing something different…
20th December 2019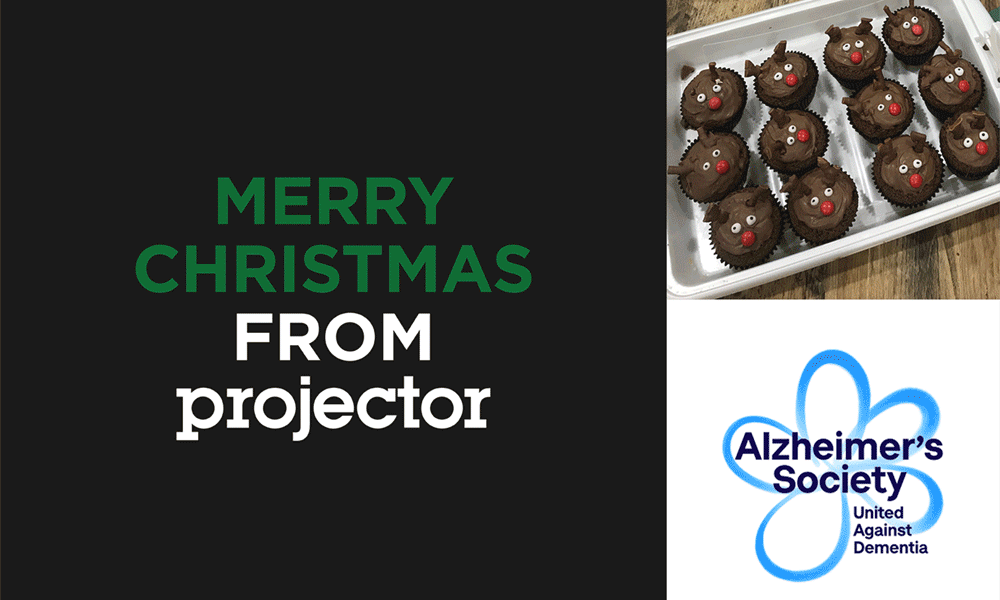 Instead of sending out Christmas cards, we've decided to donate and raise money for Alzheimer's Society, a fantastic cause that's very close to the Projector team's hearts.
People with dementia find it difficult to know who to turn to or where to go for help and support after diagnosis. As well as funding research to find a cure for dementia, Alzheimer's Society supports people living with the condition and those who care for them so they don't have to face dementia alone.
To help us raise money, we joined forces with the guys at our sister company Union Room to host a bake sale. Everyone made a brilliant effort and, as you can see, there was more than enough to go around, from elf cupcakes and festive iced biscuits to Aperol spritz drizzle cakes. Our MD Phil has even pledged to dress up as a Christmas Elf in the office if we're able to reach our fundraising target of £250.00! Keep an eye on our Instagram for any updates and embarrassing photographs (which you are free to print out and stick on walls for any future meetings…)
Thank you so much to everyone who has donated so far and helped us raise money for such a worthy cause. If you'd like to donate, you can do so here.
From all the team at Projector, we wish you a Merry Christmas and a very Happy New Year. We look forward to working with you in 2020!