Using Halloween to promote your brand
27th October 2014
So, the nights are closing in, the weather is getting (even more) cold and wet and most of October has already flown by. It's Autumn time and at the end of this week there's Halloween, the first real marker of the festive Winter season but, more importantly, a great launchpad for engaging with customers and clients.
The enthusiasm for Halloween has grown wildly over the last ten or fifteen years – almost a third more people engage with promotional campaigns at Halloween and nearly 70% of people claim they'll dress up for the occasion. This really is a great opportunity to get people interacting with your brand.
Social media is the obvious starting point. Some ideas on how you can best utilise your social network: use Facebook, Google+ or set up a Twitter hashtag to promote a seasonal competition (best Halloween costume picture or pumpkin carving). Topshop have previously done this to great effect encouraging customers to tweet Halloween tips or costume pictures with the hashtag #TrickorTweet – the best tweet of the day received £100 shopping voucher. Alternatively, have a small Halloween themed quiz or freebie giveaway that can also be used for data capture. This year Waterstones have launched an ambitious Blogger Murder Mystery game in which followers need to piece together clues and solve the mystery in order to win £50 book tokens.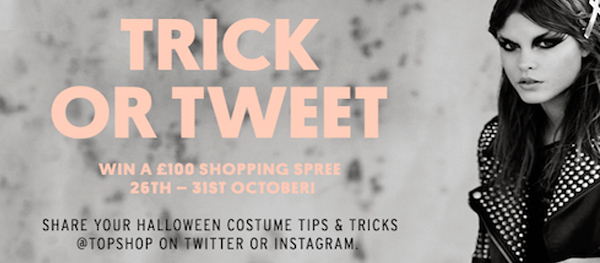 Away from social media, a good way to touch base with your clients is sending out Halloween inspired postcards or newsletters – the season is ripe with imagery and symbolism that can be played with when designing e-shots or by adding some graphic elements to your social media or company website. Even look at creating a Halloween version of your logo for use across media for the days leading up to 31st October.
If possible, find a way to offer a seasonal version of your product or service. Hartleys have just launched a range of Halloween inspired jellies and McVities a range of seasonal cakes both with fun, themed packaging designed by Chilli UK. And you don't need to take the horror-themed route – Starbucks's Spiced Pumpkin Latte is a fantastic example of utilising the elements of Halloween to devise a great seasonal product.
Sometimes, your product/service may not appear to lend itself well to being Halloween'd. But the scope of the festival – taking in elements of the gothic as well as the broad reach of horror, means that there are a wide variety of elements that can be retooled to work with seemingly unrelated markets. A great example comes from REI, an outdoor clothing and footwear brand. To mark the season, they commissioned an infographic detailing the best way to survive a zombie apocalypse. As well as the more tongue-in-cheek elements about how to take down a zombie with a cast-iron skillet, or disorient one with a flashlight, there is genuine advice about how to use a signal mirror or dealing with blisters. REI even built upon the joke by holding zombie survival classes in their stores! Another inspired Halloween marketing campaign comes from booking.com, a hotel bookings and review website, who devised a page devoted to haunted hotels. Each hotel has its own horror movie-style poster artwork alongside a small history of its hauntings.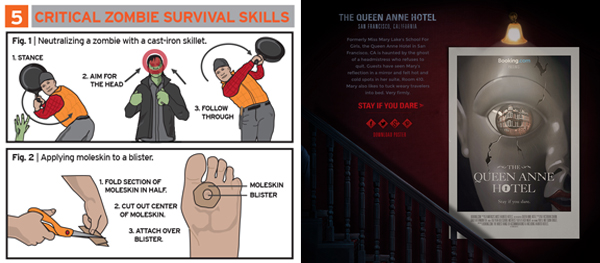 Finally, there's always the option of taking a different route and presenting an alternative to Halloween. Stand out from the other horror-based marketing by using other elements of the time of year – autumnal colours, Harvest festivals, conker tournaments, cold nights by the fire. Halloween is full of fun and excitement but there is a different side to October that can be equally effective in engaging an audience when used creatively. Again using Facebook or Twitter, give alternative ways to spend Halloween, ask people what they'll be doing to avoid the trick or treaters, or focus on the other big event of the season instead – Bonfire Night.
Making the most of the Halloween season can be a great way to interact with your audience and broaden the reach of your brand. It's at a perfect time, set between the come-down from Summer and the long, often exhausting build up to Christmas. Look at what you can do with the many different facets of the occasion. Be funny, be creative and most of all, be engaging.