When generic becomes too much
16th February 2015
The passport.
It's one of those things that's been around since yesteryear (well 450BC is the earliest known reference apparently!). It's a document that identifies who we are; it lets us travel into new countries and it's something that has slowly become rather generic.
A passport used to be something that became particular to the person to whom it belonged. It became a book of personal memories for those who enjoyed travelling, filled with stamps issued from all over the world. Each passport was, in a way, customised by the person who owned it. No two were the same.
Sadly those stamps are slowly becoming a distant memory. Instead we receive a grumpy look from passport security and a swipe of a digital barcode from our passport to say we are safe to enter the country.
Luckily for some, in the last few years the ethos of passport design has slowly started to change. Last year – as briefly covered in a Friday Roundup post from November – Norway launched a competition for local design agencies to pitch ideas for the nation's new passport redesign, with the end results being a modern clean interpretation of Norwegian history.
Canada also took the step, back in 2013, to redesign their passport, though seemingly slightly more subdued than its Norwegian counter part. That was until earlier this year when a Reddit fan posted about what they found when they accidentally introduced a UV black light to its pages.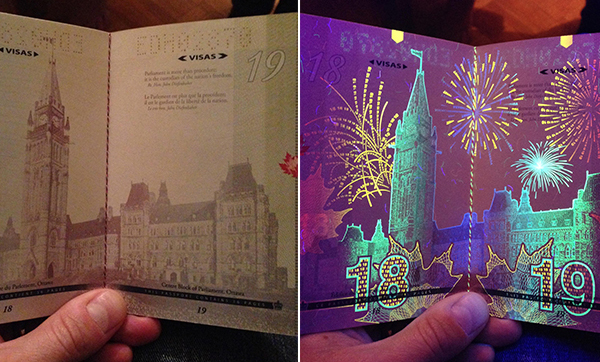 Standard looking pages exploded with colour and lively patterns, with each page unique from the previous. It suddenly turns into a book of beautifully thought-out illustrations jumping off the page that tie back to Canadian heritage.
These redesigns, though few in number, highlight the artistic availability that can be found in everyday items and could possibly re-introduce sentimental value that was once held with passports. Hopefully these will slowly influence others and the personal identity within nations' passport designs will be gradually introduced back in different creative interpretations.
Blog post by David Fippard